Drum Labels Overview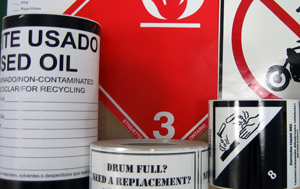 Drums are 55 gallon containers that carry and store different kinds of often hazardous or flammable material (petroleum, chemicals, flammable solvents, oil, alcohol, paint, etc.). The United States' Occupational Safety and Health Organization requires that all drums containing hazardous materials be labeled appropriately. They should have a warning label that shouldn't be removed until the drum is emptied. Aside from the warning, drum labels include information about the content of the drum, handling instructions and the supplier's information. In addition to this, the Department of Transportation regulates the application or mandatory labels on hazardous materials.
There is also an international system of identifying hazardous materials. It is called a Globally Harmonized System of Classification and Labeling of Chemicals (GHS) and it uses the same criteria world-wide for labeling hazardous materials. Though GHS classification is not mandatory, most manufacturers comply with its regulations, because it uses easily understandable symbols and forms called material safety data sheets that include all information on the drum's content and handling instructions.
Since drums mostly store dangerous substances, the manufacturers are well aware their drum labels cannot be ordinary paper labels. Drum labels need to be durable, permanent and capable of withstanding the harshest transportation and storing conditions. Drum Label Pros will now guide you through these sections and get you acquainted with everything you need to know about drum labels.